This a news report published on the 14th of january this year in http://www.missosology.org/forum/

THE COFFEE HAS ITS FIRST BOLIVIAN QUEEN

Jessica Anne Jordan Burton won the crown in the pageant ceremony carried out in the 52 Manizales Fair. The crowning night took place on saturday night in the Bolivar Square in Manizales.




Jessica Anne Jordan Burton Miss Bolivia was crowned 37th International Queen of Coffee, which represents the first crown for that country in the contest carried out in tha Manizales Fair.

"Hooray for Manizales!!" the queen screamed to the attendees to the crowning ceremony, at the Bolivar Square, during her first walk wearing the crown, which will identify her as the new Queen of Coffee in 2008

As first runner-up Camila Fernandez Carvalho, Miss Uruguay was chosen; the second runner-up was Miss Venezuela, Monica Suset Beserini Hadad, which surpised the audience because she was the people's favourite from the begining of the pageant.

The jurors also chose Dominican Republic, Claudia Mabel Peña Gomez as third runner-up, and Ginelle Aime Saldaña Gonzales, Miss Panama as 4th runner-up.

The New Queen said that she would love to come back to the city to make it up to the Manizales the love and support received during the Manizales Fair.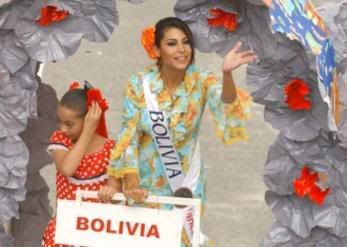 Regards,

TOMAS
lunes, 21 de julio de 2008